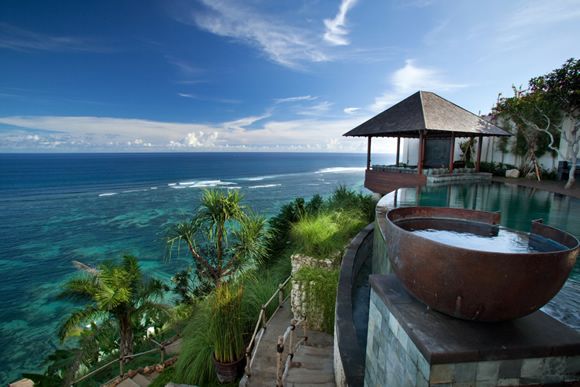 One developed management of luxury villas in Bali sent us an email implicating an invitation to their newest managed villa called as Villa Bidadari. The name of this villa as well as the location caused us to be curious and eager in attending this party. We were triggered on having a view in this heaven, according to most people. Located on the top of hill of Southern Bali, this villa is categorized as the house of Bidadari. As its name, Bidadari is meant to be beautiful girls who live in the God house or paradise, this villa is able to grant the people's wish to be served as they are in the heaven.
This villa hypnotized us when we first did an entrance. A glass of coke welcomed our arrival. After getting chill out, we began to travel our sight around the whole part of this house. An attracted spot catch my eyes. There was a unique elevator could accommodate four standing people. This electric tool used to carry the people upstairs to go down into the downstairs area of this house. It was just being realized that this villa divided into two separated parts. One main big building was positioned on top landscape and one another building was put up in stepping down area from the main area.
There were two ways for reaching the downstairs house, using the electric elevator or stepping on the manual stairs with a nuance of natural, made-up forest. At this party, I had tried to feel how it was by using the elevator and stairs. Both were totally crazy. The elevator caused me to be so fear when getting down while the stairs madly caused me to be so out of energy when I was going up. However, it was an awesome house.
Talking about the room, we would kindly start to share our experience from the main building. 3 massive bedrooms were planted in this building. Two bedrooms were on the second floor separated by the tranquil TV room. They were totally amazing. Additionally, there is plugged a window glass on the fence of the Jacuzzi area of one of the bathroom in the bedroom. This is to unblock the view of the one that relaxing in the tub. All bedrooms en-suite bathroom, air conditioned, television, and also IDD phone. Going down, but still in this building, we would see the living and the dining area, which is facing the pool area, with its luxurious interior set up. The other spaces were constructed with a complete equipped kitchen, and one family bedroom.
Let us now go down to the hidden room downstairs. A bedroom, we guessed to be perfect for honeymooner, were there planted being aside with the gym and spa room. It was a small area, but absolutely nice to escape from any crowd indeed. Surprisingly, a natural Jacuzzi with a human made waterfall was built one level above in which the couple would be able to enjoy the warmth of the ocean.
Nothing better than come and enjoy the harmony of temporarily owning this house – a marvelous place to stay in.